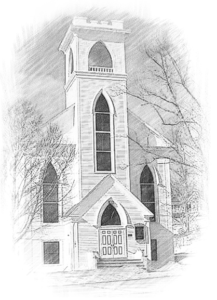 All are welcome!
101 Edgewater Street, P.O. Box 481
Mahone Bay, Nova Scotia, B0J 2E0
902-624-9287
Services are Sunday at 11:00am.
Sunday School is offered from September-May.
At Trinity United we envision ourselves as An Inclusive Community, a place of welcome, fellowship and belonging for all regardless of age or gender, sexual orientation or ethnic/cultural background; Seeking Justice as we dare to: reach out in times of crisis and need, expand our global awareness and involvement, live in a socially conscious manner; Loving Kindness as we nurture community within our walls and beyond; Walking Humbly as we walk in humility with each other and with the earth, joining others on the spiritual journey. Through the Grace of God With Us, today and always.